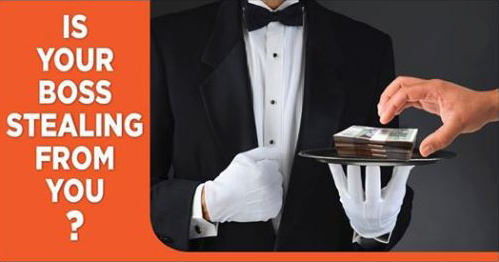 Is my boss stealing from me? Most of us would prefer to never ask this question.
While some industries abide by the labor law and the collective agreements, some blatantly ignore them. The employers in hospitality and restaurants are the biggest offenders in this regards – up to 70% of claims made to Efling Trade Union are from employees of restaurants and hotels.
The negotiation committee of Efling Trade Union invites everyone to our open discussion about working conditions in hotels and restaurants. The meeting will take place in Gerðuberg on 6th October 2018 at 2:30pm.
We will have a conversation about the working conditions and how we can improve them.
Ingólfur Jónsson, Efling´s staff member, will give a short presentation on the current situation in the hospitality sector. After this Efling board members and employees from restaurant and hotels will share their experience.
The wage theft is a theft like any other, however it is not yet sanctioned by law. Currently the unfair employers face no penalty for wage theft, except for repaying the withheld wages.
Let´s change it!
The meeting will be streamed live and recorded, to enable people who cannot attend the meeting to watch from home. It will be held mostly in English, but a live, on-screen Icelandic/English translation of the meeting's content will be provided.
Members of Efling and everybody that are interested in social issues are welcome to join the meeting. Coffee and refreshments will be offered at the end of the meeting.
Guests with children can register for child-care in the Gerðuberg Library – Registration is over however everybody is welcome to the meeting.