The companies Eldum rétt and Menn í vinnu, along with management, have been summoned to court over their treatment of four Romanian workers employed at the companies this winter. Eldum rétt, a catering company, hired them from the temp agency in January, and was thus responsible for ensuring their conditions were acceptable, according to laws on chain responsibility from 2018.
Several companies bought labour power from Menn í vinnu. The legal office Réttur has, on behalf of Efling, demanded that they guarantee the wages and conditions of the workers who suffered wage theft and rights breaches by Menn í vinnu while employed at their companies. All companies agreed, except for Eldum rétt.
The prosecution against the company, its CEO, and Menn í vinnu and its representatives, has been filed in the Reykjavík district court.
What happened to the Romanians?
After being offered a great work opportunity in Iceland, the men came from Romania by means of Menn í vinnu, which not only hired them out but also managed their accommodation. Their wages were unilaterally deducted by items labelled "Advance", "Transport Fee", "Shared gas", "Phone Card" and the like. This gave the shadow director of the company, Halla Rut Bjarnadóttir, severe power over the existence of the workers, power which seems to have been used without restraint to discipline them.
In October, the investigative news programme Kveikur reported on the abominable condition of employees at the temp agency, where this disciplining was described. The report aroused great interest and extensive discussion in Icelandic society and it should have been clear to everyone by then that the company was in no state to do healthy dealings. This was confirmed in February, when staff again notified public agencies of serious problems. They sent messages to ASÍ, the labour confederation, and said that they had been threatened with expulsion from their dwellings, dismissal from work and even physical harm if they complained to media or unions. In one visit of ASÍ and Efling officials, a worker got a notification on Messenger. Halla Rut was asking, unprompted: Do you want me to buy you a ticket home?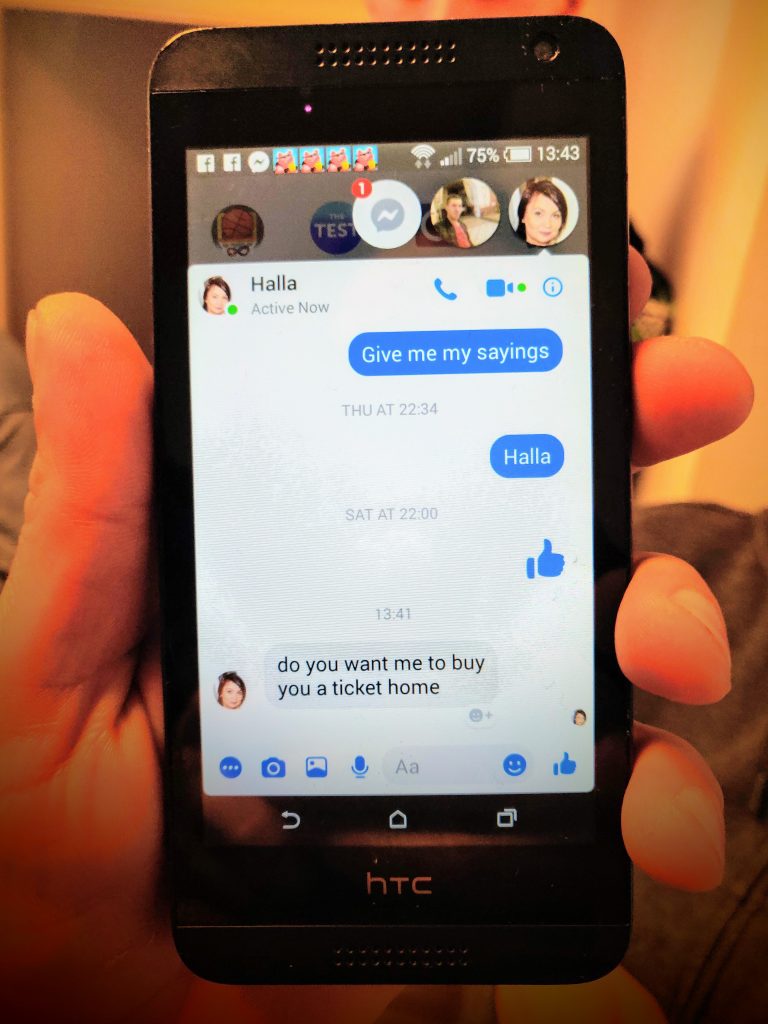 In the visit it also transpired that the workers were living unregistered in industrial housing. Tens of thousand per head were charged, with many persons per room. Their legal residence had been assigned to a random unrelated house, incidentally not a residential house either. Their last payout was in some cases close to zero due to all kinds of deductions.
When the Romanian workers talked to media to tell of insufferable living conditions, Halla Rut started sending their sensitive personal documents to journalists, for instance a screenshot of one of their bank accounts, in order to confuse and downplay their stories.
The men were, in summary, offered to work here on false premises. They were fleeced by Halla Rut and associates, until they became a nuisance. Then, all means were used to make their lives insufferable and, preferably, to get them out of the country. They were left without food, money or shelter until Efling and the social services of Kópavogur and Reykjavík offered them assistance.
What is the responsibility of Eldum rétt?
Importing people through temp agencies comes with obvious risks. Such companies can harbour underpayments, abuse and even human trafficking. That is why chain responsibility has been legislated, so that companies can't evade responsibility for the conditions of their workers by employing them through an agency. Eldum rétt was responsible, like other companies buying labour power from Menn í vinnu, for the temp workers getting a decent bargain – and no worse than other employees.
All companies that Efling union has approached in this case have said they accept that responsibility. Eldum rétt is the only company which refused.
What is the court case about?
On the one hand, it is about illegal wage deductions; all those variegated minuses which were put on the payslip. One of them was, for instance, for a World Class gym card (which many employees didn't use). They were told they were getting them at a discount, while in fact the deduction was higher than the price listings of World Class.
On the other hand, and more significantly, the case is about the degrading treatment and coercive conditions under which Menn í vinnu employees worked. In light of these, and the disproportionate power of Menn í vinnu managers over them, the workers were utterly dependent on the company and subjected to its directors' whims. This situation always comes up when labour comes to Iceland from abroad without being notified of its rights – but it's not every day that bosses abuse their superior position to such an egregious extent.
Why are temp agencies legal?
The labour movement considers temp agencies to be extremely undesirable. They are a deviation from the rule of direct employment, by inserting middle-men who take a portion of the wages and put in their own pockets. Sadly, this type of operation has been permitted in Icelandic and European law to make it easier for employers to fetch workers from other places when nobody in Iceland will accept their offer.
This has opened yet another method to erode wages and conditions in the Icelandic labour market. People are looked for in regions devastated by the tides of capital, where knowledge of English is limited. No demands are made on the companies to inform workers of their rights.
What happens next?
The case will be concluded in court. The CEO of Eldum rétt has declared in an interview with Stundin that he's very surprised that Menn í vinnu behaved this way in February, after having behaved this way in October. According to a letter from his lawyers, all demands for responsibility are rejected.