Cleaning jobs are important, challenging and involve heavy responsibility. It is imperative for the workers in these jobs to know their rights and correct pay – this way they will be able to guard their best interest at work.
This information is for cleaners employed on the private labour market, which means it is for those who work for private companies. However, workers employed by private companies are often outsourced to clean public institutions and the below information also applies to them.
Please note that the following information does not apply to cleaners working in hotels and restaurants. 
General information that applies to all workers in cleaning
Call-out
If you are called to work separately from your regular working time, you shall be paid for a minimum of 4 hours according to the general pay rate and your specific pay grade and experience should be included.
Protective clothing
Your employer shall equip you with the protective clothing that is required, including shoes and gloves. If the employer does not provide that, he shall pay additional clothing supplement kr. 12,53 for each working hour.
Rights of replacement workers in cleaning
• After one month of continuous work, two days of sickness right.
• After collected work time (day – month – year) even if it was not continuous work, replacement workers in work paid by the hour shall receive wage rate increase according to their experience.
Waiting time
If you cannot start your work at regular time because of circumstances at the workplace and you are not notified before arriving at the workplace, you shall be paid for the time you spend waiting at your regular pay rate. In such cases you must inform your supervisor about the reason and the length of the waiting time as soon as possible.
Laundry
If you offer to do laundry outside of the workplace, for instance towels, or other similar pieces, you shall receive pay for this.
It is important to know the following definitions from the collective agreement regarding cleaning jobs
Limits of the cleaning area
The area of cleaning is limited by the floor surface and the height of a worker standing on the floor and using cleaning tools, which means that when doing your regular work tasks, you should be able to easily reach the cleaning area. You are not supposed to stand on a ladder or use other props.
Regular cleaning is the regular work that you do daily, that removes dirt from surfaces according to the job description (task description if the contract is for piecework), below arm's reach. Water, equipment, machines and cleaning products may be used.
Additional tasks are tasks that may occasionally arise, but are not listed in your job description of regular cleaning and are within arm's reach. You shall have sufficient time to perform the task with the right tools and products.
Deep cleaning (hreingerning) means removal of dirt which does not disappear during the regular cleaning and while performing additional tasks.
The rights and pay conditions of cleaners depend on the type of their contract.
There are 3 main types of contracts for cleaners.
Time measured piecework
In time measured piecework your work is organised to allow for faster cleaning than normally. This is why your hourly pay is increased by the 20% piecework supplement, of which 8% is a premium for unused breaks.
This means that in this employment mode you are not entitled to take paid breaks at work, as they are already paid for by the higher wage rate.
The current pay rates for this type of work are listed in the table below.
Wage category 6 with 20% supplement from 1 January 2021 – 31 December 2021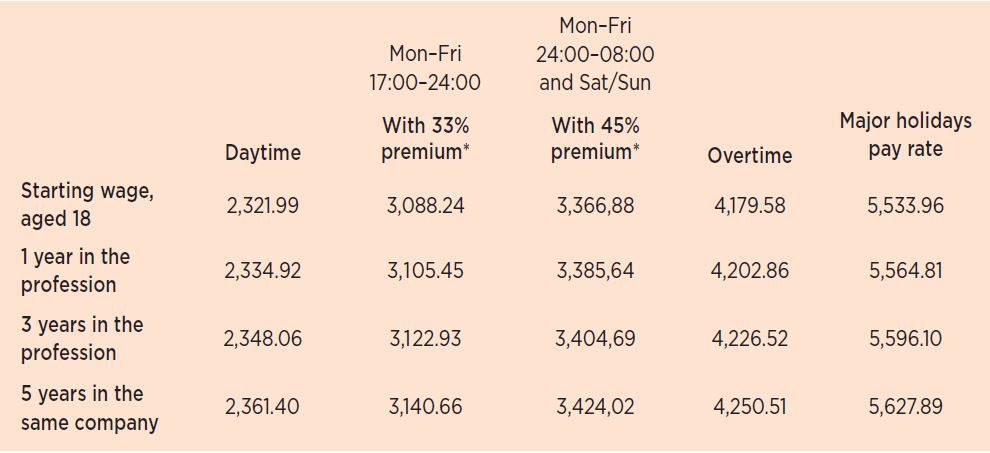 The hourly rate for deep cleaning is to be paid with a 45% supplement.
Work above 40 hours per week, should be paid at overtime rate.
Work on major holidays shall be paid at major holiday pay rates. Work on other national days off shall be paid at overtime rates.
Tasks description
Before you start your work, you should be made familiar with the cleaning area, working conditions and tasks description. Your supervisor should give you a written tasks description and a sketch of the cleaning area. It should clearly state how and what you should clean. It should also explain at what time of the day and how often you should clean each surface. You should always have access to the tasks description and if a permanent change is made in the workplace the tasks description should be updated immediately.
Travelling between cleaning locations
In time measured piecework you should have the opportunity to work for minimum 2 hours continuously. In this time work in one or more cleaning locations could be required of you.
If your cleaning assignment consists of 2 or more cleaning locations, the employer is obliged to pay for 15 minutes' journey time between locations. If the job starts after more than 1,5 hours in the next location, the employer is not obliged to pay for the journey.
If you use your own car per your employer´s wish, the employer must cover the cost either according to kilometres driven, or by a payment of set amount.
Work paid by the hour
If your work is paid by the hour, you work at a normal pace and are entitled to 35 minutes paid break based on full-time work during daytime working hours. Daytime working hours are from 8 am to 5pm. If you work after 5pm, or you work in deep cleaning, you should get overtime rate (+80%).
The minimum pay in this contract type is 3 hours.
Wage category 6 from 1 January 2020 – 31 December 2021.

Shift Work
In shift work you should work at a normal pace and you should receive a shift supplement when work is done outside of daytime working hours. Workers cleaning public institutions have the right to a higher shift supplement during night and weekend shifts, it means 55% supplement instead of 45%.
If you are employed as a shift worker, it must be stated in your employment contract.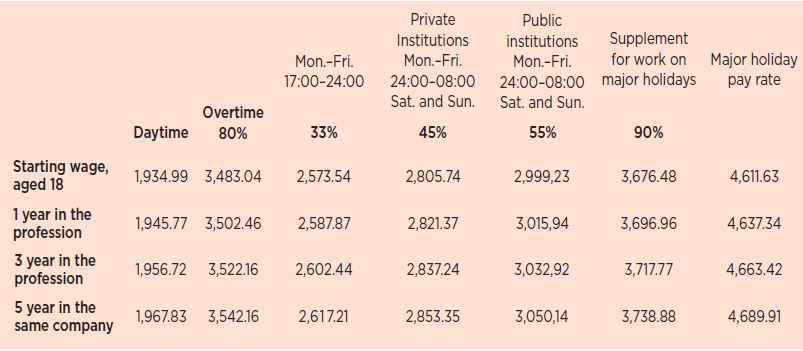 Wage category 6 from 1 January 2021 – 31 December 2021 (ISK).
If you work more than your job ratio in a part-time position, you shall be paid day rates for work during the daytime hours, overtime rates for overtime hours and major holiday pay rates for work on major holidays.
All work above 100% shall be paid according to overtime rates and work on major holidays shall be paid according to major holiday pay rates.
Deep cleaning shall be paid at overtime rate.
Work on major public holidays is paid with 90% extra supplement on top of regular wages.
You also accumulate winter vacation.
Work on other days off is paid with an extra shift supplement – 45% if you work in private institutions, 55% if you are outsourced to work in public institutions (hospitals, elderly care homes, etc).
Lunch and coffee breaks
Workers in shift work are entitled to 5 minutes of paid break for each completed hour, which equals 40 minutes a day for full-time work.
Shifts and shift schedule
Shifts may fall on all days of the week – full-time job equals 40 hours a week.
If during a 5-day working week work is always between 5pm and 8am – full-time job equals to 38 hours a week.
Shifts shall not be longer than 12 hours, and shall not be shorter than 3 hours.
Shifts shall always be worked continuously.
Shift schedule shall specify how long your shifts are – for instance when your work starts and finishes.
Shift schedule must be prepared for a 4-week period and shall be announced 1 week before you start working according to it.
You should be notified about any changes to your shift schedule with minimum 1-week notice
Winter holidays – vetrarfrí
Workers in shift work are entitled to 12 additional days of winter holidays in exchange for working during major holidays and other days off. Winter holidays should be used between 1 October – 1 May. It is allowed to agree payment instead of holidays – 8 hours for each worked major holiday or other day off, assuming full-time employment.