Houses
Einarsstaðir í Fljótsdalshéraði
One week

28.000 kr

One weekend

kr

Arrival

16:00

Departure

12:00
Accommodation type
3 hús • 50m2 • 3 Rooms • 7 Beds
Facilities
TV
Grill
Microwave
Crib
High chair
Hot tub
Description
The houses have three bedrooms, one double bedroom and two bunk rooms. Sofa bed in living room. Living room, kitchen common and dining area. Bathroom with shower. Sleeps seven. Duvets for seven people. All main equipment is included. TV, radio, fridge, stove, microwave and gas grill. Also everything needed for cleaning.
Information
Keyhouse – number is on the lease contract.
NB. NO PETS ARE ALLOWED
Links
Price
Price for one week 28.000 kr. – Winter rental: Direct rental from the supervisor via the email address einarsstadir@simnet.is. You can also call on weekdays between 9 and 17 at 861-8310. The winter rental is from 1 October 2020 to 1 May 2021.
This is an exciting place to visit. Only about 15 min. drive to Egilsstaðir where all services are available, such as shops, swimming pool, various entertainment and restaurants. It is also a short drive to Atlavík and Hallormsstaðarskóg and not least is it tempting to drive to Kárahnjúkar.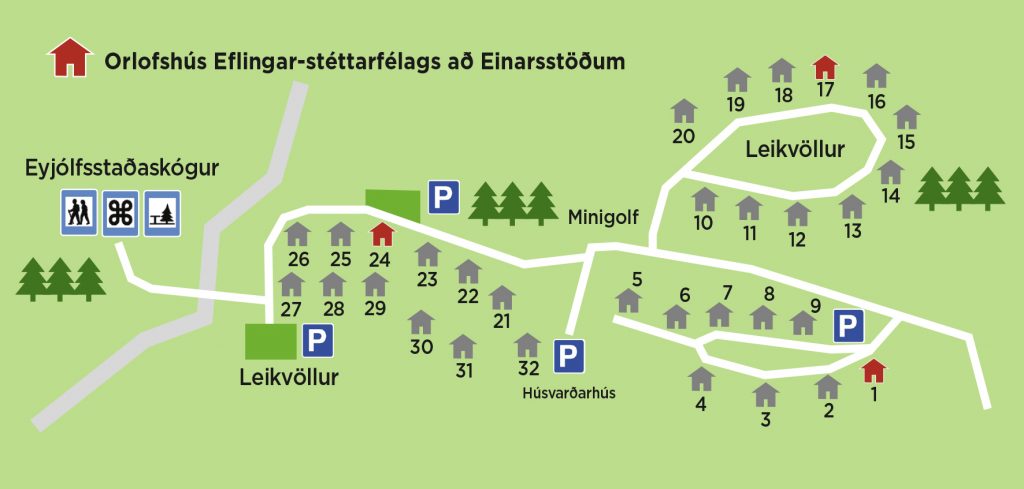 View on google maps: