Houses
Stóra Fljót, Reykholt Biskupstungum
One week

35.000 kr

One weekend

25.500 kr

Arrival

16:00

Departure

12:00
Accommodation type
6 hús • 100m2 • 4 Rooms • 9 Beds
Facilities
TV
Grill
Microwave
Crib
High chair
Dish washer
Washing machine
Dryer
WiFi
Hot tub
Description
New and stately vacation houses in Stóra Fljót at Reykholt in Biskupstungur. The location is unique, at a lovely vantage point south-east of the populated area of Reykholt, where there is a wide view over the South of Iceland and all the way to Flúðir.
The area is organized as a living-area so the facilities are as good as possible and the design and organization of the houses is geared towards enjoyment of the magnificent view available there.
Description:
The houses are about 100 square meters large, clad with corrugated iron and surrounded with concrete porches. They are well organized on the inside so that the space is utilized as well as possible. There is an entrance on the side of the houses and beyond the ante room there is a bright and lovely general area with large picture windows on the south side and the ceilings are high. The general area contains a kitchen, an island, a dining room and living room and from the kitchen there is direct access to the porch. There are four bedrooms and sleeping areas for at least 9 people. The master bedroom has two adjoining beds, each 90 cm wide, and one children's bed. Two rooms contain two single beds, 80 cm wide each (that is, a total of four beds in both rooms). The fourth room contains two beds, one of them 120 cm wide and the other 90 cm wide. The bathrooms are two and both contain a shower. The larger one contains access to porch and to the hot tub. There are covers and pillows for 9 people and glasses and plates for twelve people. All standard equipment is included, that is, a television, a radio, a refrigerator, a stove, a microwave, a gas-barbecue, a washer, a dryer and a wi-fi hook-up. Also, there are cleaning supplies and cleaning tools. Outside the houses there is a very lovely outdoor area, a concrete porch with outdoor furniture, a gas-barbecue and a hot tub. The windbreak has windows so that the view may be enjoyed from the hot tub.
Information
Keyhouse – the number is on the lease contract.
NB. NO PETS ALLOWED.
Price
One week 35.000 kr. – One weekend, 3 nights 25.500 kr.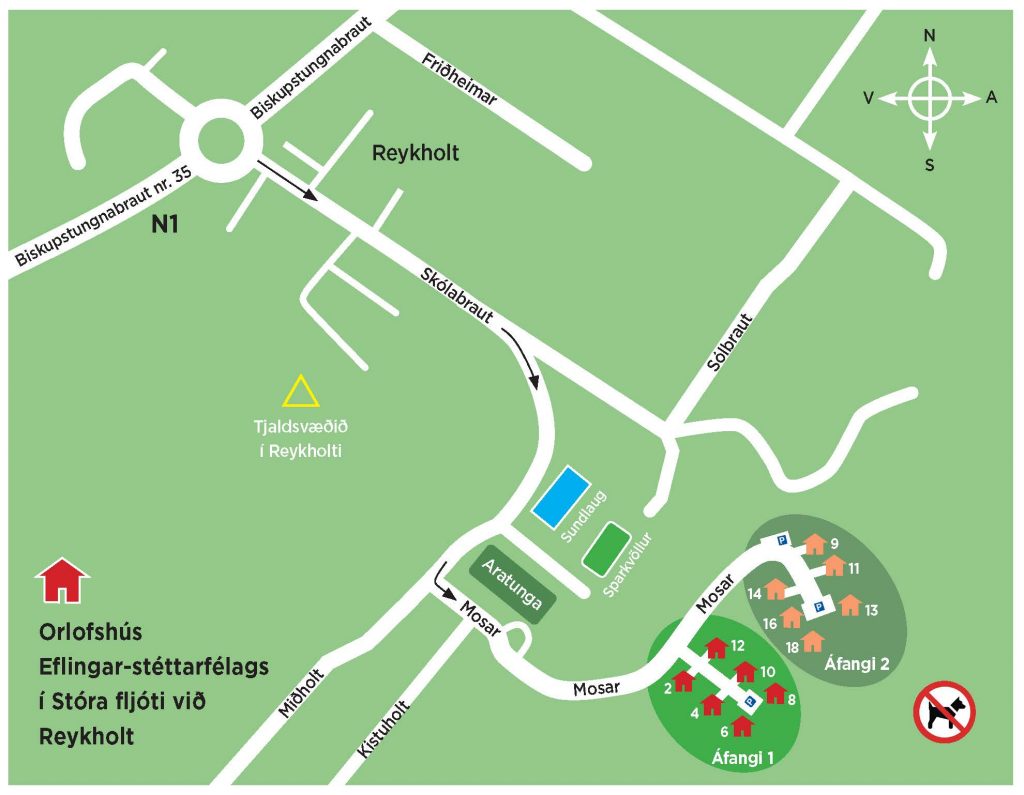 Nearby, within walking distance, there is a service area where there is, among other things, a very fine pool, a grocery store, a hot house and popular restaurants, the best known of which are Friðheimar and Mika. There is also the community center Aratunga which many remember fondly. There has long been a populated area in Reykholt, which formed around the geothermal area, where 200 people now live and where there is much gardening activity, as well as services for the neighborhood and travelers. Reykholt is located within the Golden Circle and is thus close by all the most famous natural sites and the zoo called Slakki is situated nearby.